Web Sites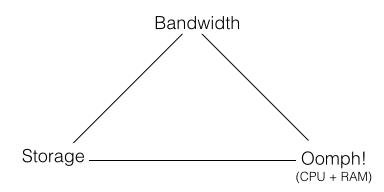 The Iron Triangle of Web Hosting
Web hosting is made possible by the interaction of three distinct resources:
Bandwidth
Bandwidth is the simplest resource. No matter what type of site it is, anytime someone accesses it, bandwidth is used. The more popular a site is, the more bandwidth it uses.
Storage
Storage is also fairly straightforward. All the files that make up a site, whether dynamic scripts, images, movies, audio files, or any other type, take up space. The amount of space a file uses may or may not be proportional to the amount of bandwidth it uses; for static files it usually is but for dynamic sites it tends not be.
Oomph!
"Oomph!" refers to the server resources (CPU and RAM) required to turn storage (and input from site visitors) into bandwidth. For static files, this is pretty negligible, but when scripts are involved (like CGI or PHP) the amount of resources can vary widely depending on what they're doing and how well-written they are.
Every web site needs each of these three things in some combination, which is why we call them the iron triangle of web hosting. However, some sites use a lot of one and not much of the other two. Others may use two or lots of all three. For example, even the largest, most popular static site might use a lot of storage and bandwidth but often uses less server resources ("Oomph!") than even a small dynamic blog. Because of this wide variation, most of our billing plans track each one independently, but we do offer a few other options that may be suited to special cases.
Dynamic Sites
Dynamic web sites are those that are dependent on scripting (PHP, CGI, etc.) to work. This includes many (but not all) popular web applications like blogs, CMS apps, forums, wikis, and a world of applications you can invent for yourself using the developer tools we provide, like powerful ssh access and over a dozen programming languages.
Examples of some of the most popular web apps that work with dynamic sites include WordPress, Movable Type, Drupal, Joomla, phpBB, SMF, Coppermine, MediaWiki, Trac, and hundreds more.
Static Sites
Static sites, on the other hand, eschew a lot of the fancy features in an effort to keep the overhead and costs to a minimum. They serve up your files, including HTML pages, JavaScript, Flash, images, media clips, and whatever else you upload. They don't allow scripting (CGI or PHP), but they do support some advanced Apache features like SSI and mod_rewrite.
Static sites are incredibly affordable if you're on a limited budget and you're working with a prebuilt website like those produced by many of the most popular web design programs.
Usage Charges
Metric
Dynamic
Static
Base Charge
$0.01 / day
None
Bandwidth
$0.15-$0.25 / GiB
Storage
$1.00 / GiB-month
Resources
$0.01 / 17.22 RAUs*
None
*A RAU is our unit of CPU-RAM accounting. It refers to the use of one gigabyte of RAM for one minute, or the equivalent amount of CPU power.
Bandwidth pricing starts at $0.25/GiB and decreases based on how long you've been a member and how much total bandwidth an account has used:
| | New Account | After 10 GiB | After 100 GiB | After 1,000 GiB | After 10,000 GiB | After 100,000 GiB |
| --- | --- | --- | --- | --- | --- | --- |
| New Member | $0.25 | $0.24 | $0.23 | $0.22 | $0.21 | $0.20 |
| After 1 years | $0.24 | $0.23 | $0.22 | $0.21 | $0.20 | $0.19 |
| After 2 years | $0.23 | $0.22 | $0.21 | $0.20 | $0.19 | $0.18 |
| After 3 years | $0.22 | $0.21 | $0.20 | $0.19 | $0.18 | $0.17 |
| After 4 years | $0.21 | $0.20 | $0.19 | $0.18 | $0.17 | $0.16 |
| After 5 years | $0.20 | $0.19 | $0.18 | $0.17 | $0.16 | $0.15 |
These aren't hard-and-fast cutoff points. Because we're nerds and we just can't help ourselves, the bandwidth per penny is recalculated to the nearest 10 bytes as often as every minute using the membership's age in seconds and the base-10 log of the account's total transfers. So you don't have to wait for a year or the next bandwidth tier to see your pricing improve. A few minutes should do it.
While this pricing means a lot to people who use lots of bandwidth, tracking it over the lifetime of each membership also brings prices down for people who stick with us over time, even if they don't use that much. That's not a coincidence.
Want to see it in action? Try out our Bandwidth Calculator! It'll do the math for you. Our Pricing Estimator might also help.
© 2002-2017 NFSN, Inc.